Here at Barret, we are dedicated to helping our banking students excel in receiving an excellent community bank educational experience to the benefit of both the student and their sponsoring community bank employer. The Paul W. Barret, Jr. School of Banking is a non-profit independent school created by and governed by a Board of Regents, whose members are executives from banks and other firms involved with the financial services industry. Our mission is to provide a world-class learning experience for the career-oriented individual in commercial banking or a related financial services industry business.
A three-year program
for banking professionals, Barret School of Banking offers an advanced graduate-level education. Over the course of the 3 year Barret Graduate School of Banking, students will receive 130+ hours of class instruction.
The Memphis School of Banking
was established in 1972 as a not-for-profit institution that provides banking education for graduates and participants from more than 38 states. Our name was changed to Mid South School back then but it wasn't until 1977 when we received our first million dollars by private donations, which opened the doors wider on behalf of students eager to learn with successful professionals who had already walked through those same doors before us. This is how Paul W Barret Jr.'s legacy lives on.
The specifics of the grant require BSB to host a lecture event each year for our banking community, and more importantly subsidize tuition which is approximately $2500 per participant. The discounted price makes it financially possible for small community banks in turn build stronger financial institutions by leveraging this opportunity with us.
The Board of Regents
consists of leading banking professionals from around the country who volunteer their time and diverse perspectives from within the industry to ensure the community banking industry benefits from Barret's programming. Their responsibilities include:
strategic planning
curriculum review
budget oversight
new programming development
scheduling our annual lecture series speaker
promoting Barret within their banks and state organizations.
The faculty comprises
outstanding business, financial, and educational leaders who are experts in their chosen fields. Each faculty member is evaluated annually, and faculty selection and review are conducted prior to each school session by a committee of Regents.
Over the past 18 years or so,
the School has created additional career-track programs in Ag Lending, Commercial Lending, HR Management, Understanding Bank Profitability, Bank Senior Management, Director Training, and Compliance.  Also, we have launched an industry leading podcast (Main Street Banking), developed quarterly Roundtables for our alumni and their banks, as well as developed our on-demand and hybrid-learning environment, the Barret Advanced Learning Platform.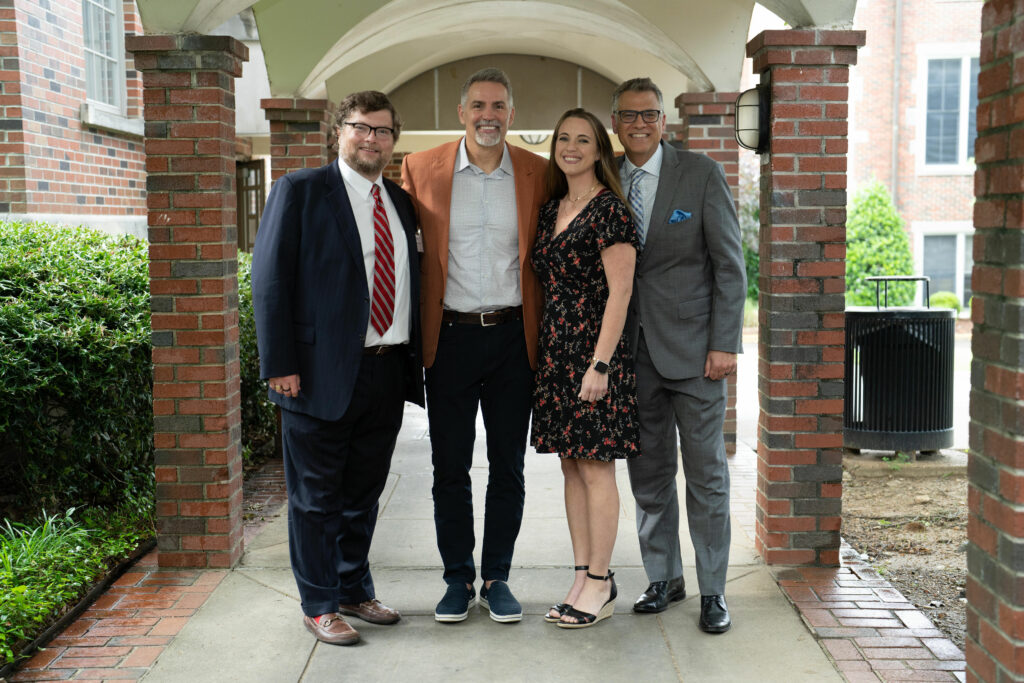 Chris Kelley, Executive Director – Mr. Kelley is the Executive Director & President of the Barret School of Banking since 2003.  He is a graduate of the Barret Class of 2000, and served as the Alumni Association President. Chris was a Board member prior to becoming the Executive Director. He began his banking career in 1995 in a management trainee position with National Bank of Commerce in Memphis.  His final role was Senior VP in Branch Administration. Prior to starting his banking career, Chris played professional baseball for the Texas Rangers. Chris has an undergraduate degree in finance from the University of Tennessee, where he played baseball, and received his MBA from Christian Brothers University. He was born and raised in Andalusia, Alabama, and moved to Memphis in 1995. He is married with two children. Chris has served for a number of civic organizations in the Memphis area, including board member of Leadership Memphis and the Community Foundation of Greater Memphis.  He has served on the PTA of his childrens' schools for more than 10 years. He has been a volunteer youth sports coach for the past 15 years.
Ashley Gordon, Registrar and Communications Director –Ashley has been with Barret since 2017. She graduated from the University of Memphis in 2003 with a degree in Sports Management/ Marketing. Before working at the Barret School of Banking, Ashley served as the Athletic Director at Idlewild Presbyterian Church in Memphis, TN. Ashley started out at Barret as the registrar and recently took on the role of communications director.  You will most likely find Ashley in the gym with a basketball in her hand watching a game, coaching a team, or just shooting around. She loves the outdoors, playing with her two boys, or cheering on the Memphis Tigers.
Byron Earnheart, Programming Director – Byron Earnheart is the Programming Director for the Barret School of Banking and the host of the "Main Street Banking" podcast…the #1 rated community banking podcast on Apple. He has over 20 years experience in the financial services industry; 11 of which have been in banking in various roles from teller work to branch management. He spends his time playing guitar and singing in Delta Heart (the "house band of the Mississippi Delta"), song writing, cooking, reading, and enduring the University of Tennessee Volunteers athletic seasons. He is married to his wife Kelly of 13 years and has two children, John Aubrey (11) and Mary Laura (8). To hear some of Byron's original music, just listen to any of Barret's webinars or check out his artist page here. Feel free to connect with Byron on any of his social media accounts or by email at byron@barretbanking.org
Barret Lecture Speaker Series
Barret's featured Lecture Speaker 2022
Kurt Warner, though undrafted, had an incredible NFL career. He led the St. Louis Rams to a Super Bowl victory, was named Super Bowl MVP, won NFL MVP in back-to-back seasons, was a 2x first-team all-pro, and was selected to the Pro Bowl 4 times. He joined Westwood One's broadcast booth full-time in 2018 as the lead color analyst for both Monday Night Football and the Super Bowl. His success carries over from the gridiron as he is extremely dedicated to giving back to the community.
Kurt and his wife Brenda, established the First Things First Foundation, a non-profit public charity dedicated to impacting lives and blessing the lives of those less fortunate. Kurt and Brenda, inspired by their son Zachary, also started 'Treasure House', a supportive living community for young adults with intellectual and developmental disabilities. His philanthropy efforts earned him the 2008 Walter Payton NFL Man of the Year Award, the 2008 Good Guy Award from the Pro Football Writers Association, USA WEEKEND's Most Caring Athlete in 2009, and the 2010 Bart Starr Award.
Inspired by the galvanizing story of Kurt's life and how he overcame several obstacles in his career, the movie, American Underdog: The Kurt Warner Story, debuted in theatres on December 25th, 2021.
Past Barret Lecture Speakers
Sharon Anderson
President/CEO
Williamstown Bank
Williamstown, WV
Aza Bittinger
President/CEO
Community Bankers Assn. of Ohio
Columbus, OH
John Beller
CEO
Bank of Cave City
Cave City, AR
Adrian Breen
President/CEO
The Bank of Missouri
Perryville, MO
Shane Clayton
President/CEO
First Choice Bank
Pontotoc, MS
Larry Coggin
N. MS President
Renasant Bank
Tupelo, MS
Whitney Doolin
2019 Class Representative
Sales Manager
Arvest Bank
Little Rock, AR
Boris Dover
President/COO
First Community Bank
Batesville, AR
David Dufour
2022 Class Representative
SVP/HR Director
Bank of Fayette County
Collierville, TN
Byron Earnheart
Programming Director
Barret School of Banking
Memphis, TN
Dave Finnerty
2021 Class Representative
EVP/COO
Guilford Savings Bank
Guilford, CT
Lisa Fite
EVP/HR Director
Bank3
Memphis, TN
Lisa Foley
Executive Vice President
Pinnacle Financial Partners
Memphis, TN
Jeffrey C. Gerrish
Attorney and Consultant
Gerrish Smith Tuck, PC
Memphis, TN
Raymond Goodrich
EVP/CLO
Bank of Charles Town
Charles Town, WV
Ashley Gordon
Registrar/Communications Director
Barret School of Banking
Memphis, TN
Jim S. Gowen, Jr.
President/CEO
Merchants & Planters Bank
Newport, AR
Eric Hallman
President/CEO
NE Independent Community Bankers
Lincoln, NE
Steve Handke
CAO/President
First Option Bank
Horton, KS
Barry Haugen
President
Independent Community Bankers
of North Dakota
Bismark, ND
Gene Henson
President – Memphis/
North Mississippi Region
Trustmark National Bank
Memphis, TN
Robert Herrera
Market President
First Western Bank
Booneville, AR
Michael B. Hobbs
Community Bank President
FM Bank
Dexter, MO
Edna Hughes
President/CEO
Lewisburg Banking Company
Russellville, KY
Christopher M. Kelley
Executive Director
Barret School of Banking
Memphis, TN
Danny Kelly
President/CEO
The HomeTown Bank of Alabama
Oneonta, AL
Lindsay LaNore
Group Executive Vice President
Community Banker University
ICBA
Sauk Centre, MN
Sam P. McClatchy, Jr.
President/CEO
Unity Bank
Holly Springs, MS
John McNair
President/CEO
Community Bankers of GA
Atlanta, GA
Tammy Montgomery
EVP/COO/HR Director
Community Spirit Bank
Red Bay, AL
Shawn Mitchell
President/CEO
Community Bankers Assn. of Kansas
Topeka, KS
Jennifer Nunley
President
Security Bank
Dyersburg, TN
Chris Padgett
Executive Director
Arkansas Community Bankers
Little Rock, AR
James L. Reber
President/CEO
ICBA Securities
Memphis, TN
Jeanie Rittenberry
Director/Marketing/Communication
First Bank
Nashville, TN
Matthew Ruge
Executive Director
Missouri Independent Bankers Assn.
Liberty, MO
Douglas Scarboro
SVP/Regional Executive
Federal Reserve Bank of St. Louis
Memphis Branch
Memphis, TN
Ray Skinner
President/CEO
Mission National Bank
San Francisco, CA
Justin St. Pierre
President/CEO
Peoples Bank & Trust Co.
Troy, MO
Jim Strickland
2017 Class Representative
Greene County President
BankSouth
Greensboro, GA


Teresa Taylor
Executive Director
Independent Banks of SC
Columbia, SC
Michael Tierney
President/CEO
Community Bankers of MI
Auburn Hills, MI
Kathy Underwood
CEO
Ledyard Bank
Hanover, NH
Brian Walhood
President/Community Banking
Cadence Bank
Memphis, TN
John Witkowski
President/CEO
Independent Bankers Association of New York State
Albany, New York
Steve Yeakel
President/CEO
Virginia Association of
Community Banks
Richmond, VA
Regents Emeriti:
M. E. Bond
Germantown, TN
Claudia L. Bratcher
Fort Smith, AR
David Crader
Chairman
The Bank of Missouri
Perryville, MO
Aubrey Earnheart
Cordova, TN
Reg Germany
Germantown, TN
Carolyn E. (Betsy) Flynn
Benton, KY
Jim S. Gowen, Sr.
Chairman
Merchants & Planters Bank
Newport, AR
John T. Hampton
Chairman/CEO
First Western Bank
Booneville, AR
David E. Hayes
Chairman
Security Bank
Dyersburg, TN
Forrest N. Jenkins
Marion, AR
William H. Lovell III
Cordova, TN
Tom Martin
Olive Branch, MS
Joe Miles
Mountain Home, AR
Buddy R. Montgomery
Chairman
First Choice Bank
Pontotoc, MS
Frank W. Oldham, Jr.
Boerne, TX
Kenneth W. Plunk
Germantown, TN
Milton B. Smith
Chairman/President/CEO
First National Bank
Walnut Ridge, AR
Ray Smith
Tupelo, MS
Claude H. Springfield III
Tupelo, MS
David W. Thompson
Troy, MO
Rebecca Thomas
Memphis, TN
Richard G. Trammell
Hot Springs, AR
Tom A. Wright
Destin, FL
Barret School of Banking is endorsed by:
Independent Community Bankers of America (ICBA)
The Independent Community Bankers of America®, the nation's voice for more than 6,000 community banks of all sizes and charter types, is dedicated exclusively to representing the interests of the community banking industry and its membership through effective advocacy, best-in-class education and high-quality products and services. Visit website
Community Banker University
Community Banker University® (powered by ICBA) is a modernized educational platform that provides community bankers with premier and industry-specific professional development and educational opportunities for all stages of their careers. Visit website
Arkansas Community Bankers
The Arkansas Community Bankers Association is committed to preserving and promoting community banks, their franchise values and the communities they serve. Visit website
Arkansas Bankers Association
The Arkansas Bankers Association will promote the banking industry, function as the government relations liaison, offer educational opportunities and promote services to its membership. Visit website
Community Bankers Association of Georgia
The mission of the CBA is to promote the preservation and continued development of locally, independently-owned community banks in Georgia and the philosophy of hometown banking through unified efforts of its membership and staff. Visit website
Indiana Bankers Association
Our mission is to advocate for and sustain an environment in which banks can succeed. Visit website
Community Bankers Association of Kansas
Collectively creating value for Kansas community banks through advocacy, education, and services for the benefit of their customers and the communities they serve. Visit website
Missouri Independent Bankers Association
The Missouri Independent Bankers Association is an organization of small and medium-sized banks, locally owned, operated and dedicated to meeting the financial needs of their communities. Visit website
Community Bankers Association of Ohio
Community Bankers Association of Ohio is organized to establish and maintain an informed network of independent community banks in the state of Ohio that will have the influence and commitment to effectively serve, protect and promote the interests of its members. Visit website
Community Bankers Association of West Virginia
Our mission is to represent the interests of banks in West Virginia. Visit website
ICBA Securities
We provide community bankers with quality investment products, services and education at competitive prices.
Visit website
Bluegrass Community Bankers Association
The mission of the Bluegrass Community Bankers Association is to create and promote an environment in Kentucky where community banks flourish.  Visit website.
Pennsylvania Association of Community Bankers
To promote the ideals of community banking by addressing the educational, legislative and networking needs of our members. Visit website
---
Affiliated Organizations: 
Christian Brothers University (CBU) www.cbu.edu
The Barret School of Banking offices are located on campus. CBU offers baccalaureate programs and specialized graduate programs. Barret School of Banking graduates are eligible for six hours of graduate credit upon admission to the MBA program at CBU.
ICBA Securities https://www.icba.org/icba-securities
ICBA Securities Corporation is a service of the ICBA Services Network®, a wholly owned subsidiary of ICBA. Through our exclusively endorsed broker Stifel we provide community bankers with quality investment products, services and education at competitive prices.
Sawyers & Jacobs LLC www.sawyersjacobs.com
.Leaders in innovation, risk management, cybersecurity, and technology, with a mission of "Making Banks Better".
Gerrish Smith Tuck www.gerrish.com
Gerrish Smith Tuck LLC and Gerrish Smith Tuck, PC, Attorneys offer business consulting, financial advisory and legal services to community banks and thrifts nationwide.
Reynolds Bone & Griesbeck www.rbgcpa.com
Reynolds, Bone & Griesbeck specializes in accounting, tax and advisory services for financial institutions.
National Registry of CPE Sponsors www.nasba.org
Barret School of Banking is registered with the National Association of State Boards of Accountancy (NASBA), as a sponsor of continuing professional education on the National Registry of CPE Sponsors.
DD & F Consulting Group www.ddfconsulting.com
DD&F Consulting Group provides comprehensive bank consulting services to the financial services industry nationwide.
PerformancePoint, LLC https://www.performancepointllc.com/
What originated as an idea to simply provide more uniquely relevant human resources and talent management solutions has blossomed into a proven organization with a strong track record. Our emphasis is squarely on amplifying brands by leveraging culture, customer and associate relationships.
Holtmeyer & Monson www.holtandmon.com
We cover every stage involved in SBA Lending— from loan packaging and closing, to securitization and sale, through portfolio servicing.
In-Synk Consulting www.in-synk.com
We bring business leaders the clear perspective and proven tools they need to successfully align strategies, actions and goals.
Risk Management Association (RMA) – Memphis Chapter www.rmahq.org/memphis
RMA is a not-for-profit, member-driven professional association, whose sole purpose is to advance the use of sound risk principles in the financial services industry.
Arkansas State University – MBA Program www.astate.edu
Barret School of Banking graduates are eligible for six hours of graduate credit upon admission to the MBA program at Arkansas State.
High Performance Teams  https://highperformanceteams.net/
High Performance Teams is a sales, marketing and management resource company that focuses on providing your company with management, consulting and training resources that will help you build a high performance team.
The Kafafian Group  https://kafafiangroup.com/ 
We're passionate about helping community financial institutions become more efficient and more profitable. We help you solve challenges and take advantage of opportunities in a rapidly changing industry and economic environment.
Social Assurance https://socialassurance.com/
Founded in 2011, Social Assurance provides the financial services industry with a suite of software solutions, services, and storytelling tools that help build Remarkable financial brands, cultures, and communities. With a mission to Empower, Ignite and Enable financial brands to be Remarkable, Social Assurance now serves over 1,500 financial brands across the country, helping them leave their mark and be the heroes of their community.